Hey everyone! I hope you are having a fabulous day. Today, I'm continuing my exploration of the recently released 3D Vignette dies from Spellbinders. This time I am using the Twin Lens Camera die set which is so adorable.
This die set has the ability to be made into a keepsake memory keeper where you can add panels where you add photos, memorabilia and more. Today, I'm using only the dies that will create the front of camera and placing that on a card base. Because we are heading into the holiday season, I thought it would be cute to dress the camera up for Christmas. So I grabbed another Spellbinders die set, as well as a Glimmer Set, to create the card.
In order to add a little texture to an otherwise white card base, I ran a panel through the Sun Rays embossing folder which is also from Spellbinders. If you can believe it, I only used just a little bit of inking on this card (this may be a first!). I really didn't see a need for a lot of inking and I'm very happy with the final results.
Ready to watch me put this card together?! Click HERE to go to YouTube to watch me work.
All of the products I used to create this card is listed and linked below. The affiliate links are provided at not cost to you. I appreciate your support.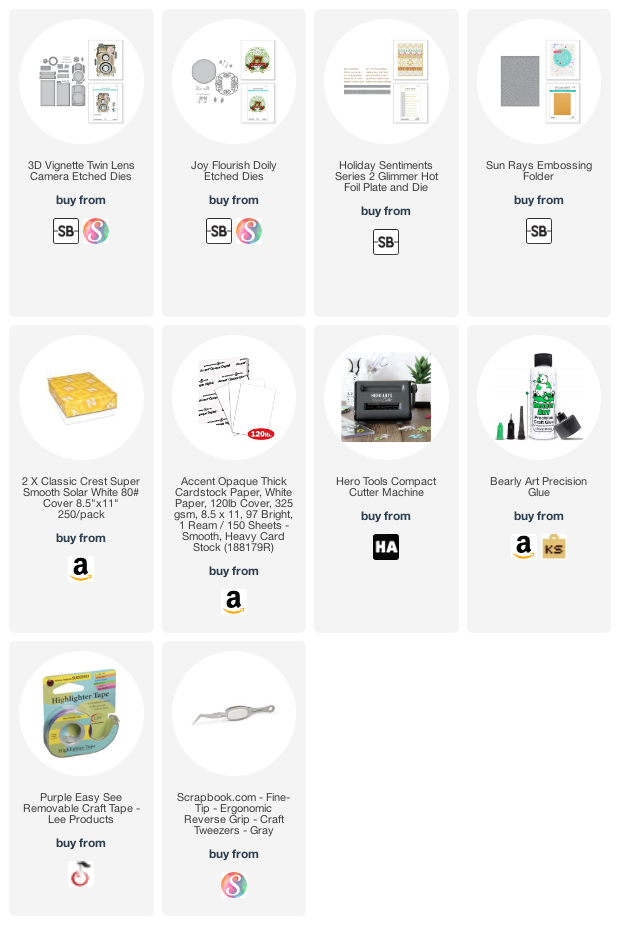 Here's to a very happy holiday season. Until next time… Enjoy!
Robin, The Delta Crafter